Share this post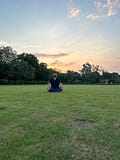 Try this for 10 minutes today
www.neerajarora.com
In this episode, there's a short activity for you to try out. It's a simple task that will only take 10 minutes of your time. Here's what you need to do:
Set a timer for 10 minutes.

Turn off any distractions.

Close your eyes and sit comfortably on your chair.

During these 10 minutes, your only job is to count from 1 to 10 slowly in your head.
Now, while performing this activity, you might get distracted. That's okay! Distractions happen to all of us. Listen to the podcast carefully to know what you need to do when you're distracted. How to handle those distractions?
After 10 minutes, pen down your thoughts or feelings you experienced during the task.
Here are my social media handles-
Twitter: https://twitter.com/neerajarora91/
Linkedin: https://www.linkedin.com/in/neerajarora91/
All the best. God bless you!
❤️ Neeraj Arora
और हाँ, सीखते रहें, क्यूँकि सीखना शुरू तो जीतना शुरू 🚀
Also, if you liked my podcast, listen to more podcasts-
Feel Free to Share your mistakes in the comment box below! I read all the comments and try to reply to all of them.
Thanks for listening to my Podcast! Subscribe for free to receive new posts & podcasts.
How does this work?
You subscribe to my write-ups. (No cost at all)

Check your email after subscribing.
Shift Neeraj Arora Reflection From Promotion or other tabs to your Main Inbox
Check whether Neeraj Arora Reflection is in the promotion tab?

Click and Drag it to your Inbox.

Click yes on Do this for future Dialog box at the bottom left.
Check the instruction in the picture below.
Also - add neerajarora@substack.com to your contacts in your email account.
Neeraj Arora Reflections 🎙
Hi! My name is Neeraj Arora. I am a Teacher By Passion! I have trained more than 50,000 CA Students and Students from other courses such as Company Secretaries, Cost Accountants, BBA, MBA etc. Mission - To Inspire people To DO MORE! On this podcast, I will provide you audios related to motivation & lifestyle. I will provide you proven Study Tips and Guidance For Increasing Your Productivity. Stay connected with this podcast for a lot of motivation & positivity.
Listen on
Substack App
Apple Podcasts
RSS Feed